The weather has been miserable here in Bedfordshire. It is very wet and the temperature has been close to freezing all day. There is snow forecast for tonight but I have been struggling on with my plans for growing tomatoes and peepers from seed.
I have been out in the potting shed this afternoon, where I sowed tomatoes, capsicum peppers and chilli peppers. I have always grown these from seed, it is far cheaper to buy a packet of tomato seed, rather than buying tomato plants later on in the year from the garden centre where you generally don't have the same number of varieties to choose from.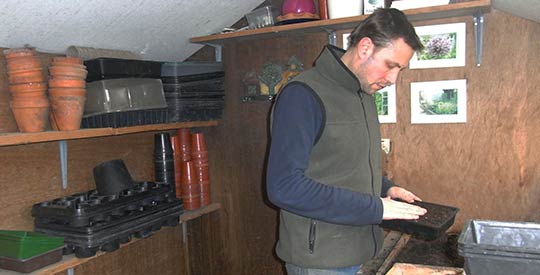 Tomatoes are the second most popular vegetable in the UK, next to potatoes. They were introduced to Europe in the 1500's yet people believed them to be poisonous until the 1700's.
My organic garden relies on me creating the right environment so that the garden balances and sustains itself, but one of the keys to the success of my vegetable garden is to have strong and healthy plants that can withstand an outbreak of pests such as aphids.
Certain greenhouse plants such as tomatoes, peppers and aubergine need that critical head start by germinating and growing seedlings in the warm. These plants that need a slow, long growing period to set and ripen a good crop. As the weather warms up in spring, I should have sturdy, well-established seedlings that will be strong enough to survive many pests once they appear in the warmer weather.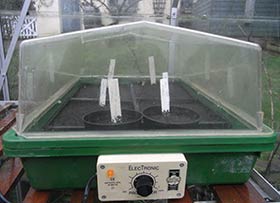 Growing tomatoes and peppers from seed is certainly not difficult but you do need to use a propagator or warm window sill indoors. My propagator is quite a few years old now so has certainly paid for itself over the years. I am fortunate enough to have an electricity outlet in my smaller greenhouse so this is where I set up my propagator.
The greenhouse has the advantage of providing a balanced light source which can often be a problem on a window ledge where all seedlings will lean towards the light and grow tall and lanky.
How to Grow Tomatoes and Peppers from Seed
Use seed trays or small pots that are at least two inches deep. You can use other containers but ensure there are holes for drainage. A good quality peat free seed compost will ensure your seeds get a good start in life and although a little more expensive than standard potting compost will ensure you get strong, healthy plants.
Fill your seed containers and gently press down the soil so it is gently compacted a half inch below the top edge.  Sprinkle your seeds onto the surface and add a marker with the variety name and sowing date at the edge of the container. Using a sieve, sift some seed compost over the top of the seeds, covering them with quarter of an inch or so.
Tomatoes and peppers need 20-25 degrees C to germinate so place your seed tray in a propagator or on a warm window sill that doesn't get too cold at night.
This year, I am growing two varieties of tomato: Gardeners Delight for my greenhouse and F1 Fantasio which is a blight resistant outdoor variety. I don't normally grow tomatoes outside but I'm going to give it a go this year. I am growing Big Jim (chilli) peppers. My capsicum pepper seeds come from a friend so are 'Yellow and Red Pepper' variety this year!
I hope you are also growing tomatoes and peppers from seed!