I have been building a successional strawberry bed over the last couple of weeks, now that the cold weather seems to be behind us. I have been using modern wooden sleepers for this which are held in place by square 3″ posts driven into the ground. The plan is to have a crop throughout the summer months by planting varieties that fruit at different times.
I have added four different varieties of strawberry, two that we had on our allotment (Unfortunately I can't say I know the name of these, one fruits in May / Early June and the other in September) and two that I purchased at a garden centre (Red Gauntlet and Eros).
Red Gauntlet
Red Gauntlet is a traditional mid season variety that has been around for many years, is known to be disease resistant and provides a heavy crop. I hope this variety will fruit from the end of June into July, picking up shortly after my 'early allotment variety' of strawberries comes to an end but before my 'late allotment variety' starts.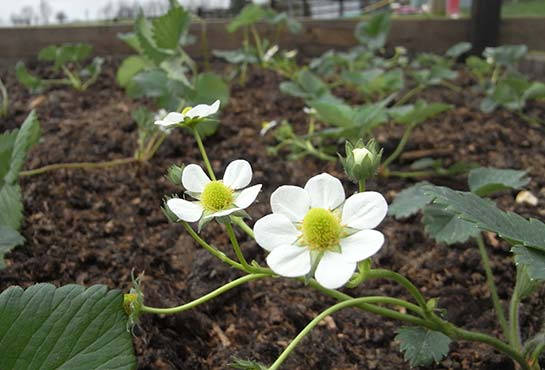 Eros
Eros is a dessert type of strawberry that was made in 1985 by  Mrs Judi Bell and Dr David Simpson of Horticulture Research International in East Malling, Kent.  They are a hybrid cross between Elsanta and Allstar. Eros fruits in mid June and is tolerant to many leaf diseases. It has a good flavour the fruits remain firm making them good for freezing. Eros should plug the slight gap between my 'early allotment' strawberries and Red Gauntlet.
Eros are a protected variety. The 'Plant Variety Rights' say that it is illegal to propagate them without first obtaining a license. I guess I'd better chop off their runners later in the year before they take root and get me into trouble!
How to Plant Strawberries
Before planting strawberries, the ground does need to be well prepared. It goes without saying that there shouldn't be weeds but you should also add a generous helping of organic matter (I used well rotted horse manure but garden compost will also work well). Strawberries can be planted in pots or even hanging baskets but remember they still need feeding for a good crop, especially after their first year when they have used up the food in the compost they were potted in.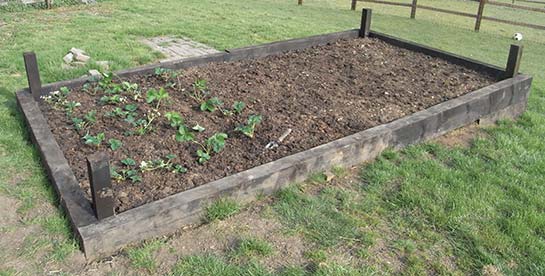 Black weed control fabric can be used as a weed suppressor and also helps to keep moisture in, although personally, I prefer to have open soil and weed between the plants and water them regularly. As the fruit starts to develop, I add a good layer of straw under the plants to stop their fruits from lying on the floor.