I have been fortunate enough to come across a second-hand greenhouse that was "free to a good home". It needed dismantling (quite a big job) and transporting to our house (on the back of a large trailer) and needs a few panes of glass replacing but "free" is a pretty good deal!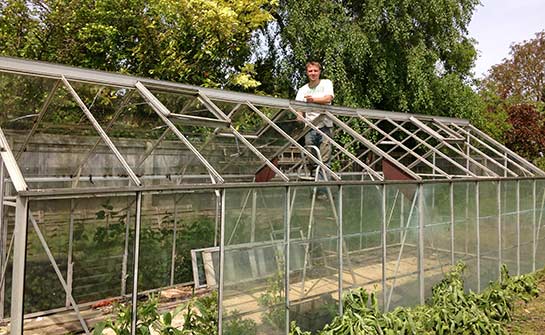 It took 2 of us just over a day to tak it down and transporting it home. It is 24 feet long, big enough for me to grow enough salad crops over the winter months to feed our family and grow enough tomatoes, peppers, aubergines, melons and maybe even a few cucumbers. I have some great plans for this greenhouse!
To buy new, greenhouses aren't cheap but if you have a bit of time on your hands and can find one locally that's no longer wanted, people are usually only too pleased to give them away for free, providing you dismantle it and leave the area tidy afterwards.
A little tip, before you do this: take several photos of the greenhouse before you dismantle it, especially the doors since this will make things so much easier when you come to rebuild it and have forgotten how it is supposed to go back together!
After getting the greenhouse home, I realised the base was going to be quite a lot of work to construct properly. I have read various suggestions on some of the vegetable gardening forums, some people suggest railway sleepers (these are quite expensive now) and concrete blocks on edge cemented together, however none of these methods are likely to last long term and a greenhouse is likely to move which can cause you problems with cracked or broken panes of glass.
The only method I have found that works in the long term (and isn't going to break the bank if you can get some old bricks from Freecycle or similar) is to mark out the area dig a trench and lay concrete into this. Once it's set, you can lay a single layer of bricks on top, making sure it is level (a line and spirit level are required for this) and then lay your greenhouse base onto the top of this at ground level.
Unfortunately, if you are on clay soils like me, then these are notorious for movement. Planning permission for our house extension was only granted if we laid 1 meter of concrete foundations because of this!
We live on a hill, which has provided me with a few difficulties finding the best location for the greenhouse. There is almost no level ground I can use for the greenhouse.
Greenhouses must be level, or the forces on the frame will cause it to bend. All of the panes of glass must also be fitted for structural strength. If you leave just a couple of panes out, the wind can catch hold of it and the frame won't be as rigid.
In the end, I found a reasonably level spot (well, reasonable for a hill) and decided we needed to construct a fairly strong concrete and brick construction to provide a suitable, level base on which to place it.
Building a base for a greenhouse should be fairly straight-forward as I suggested above but a 24ft greenhouse with the difference in ground levels from one corner to the other of 40cm was going to be quite a challenge. Whilst I am capable of mixing a little concrete by hand, I thought on this occasion I would call in the experts and ask a local builder to dig out the trench with a 2 tonne digger (they used to make bricks in Bedfordshire from this Clay) and build the concrete base with a brick wall to level it. We used some old bricks we had knocking about for the construction.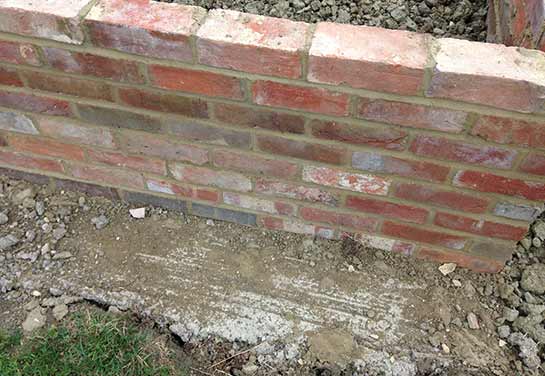 The trench needed to be about 12″ deep in my case and rubble was placed in the bottom of the trench. Concrete was poured and levelled over this to a depth of around 6 inches. A low brick wall was built on the centre of this and levelled all around.
The only 'problem' now is the door is high at one end (unavoidable with the slope) so I will need to build some steps to get up to it, not terribly practical I know but about the best I can do on a hill.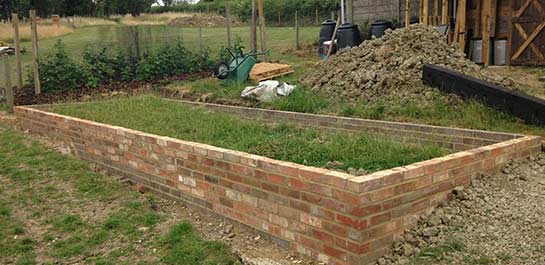 Building a base for a greenhouse is well within the reach of most gardeners, especially if your soil isn't as hard as mine and you have access to a cement mixer or can order some ready-mixed concrete.