If you are trying to extend the growing season so you can put fruit and vegetables on the table for as many months of the year as possible, or perhaps growing within a certain window of time, such as with school gardens where you want to harvest before the end of June when the school term ends then there are a few tricks gardeners can use to start crops off early.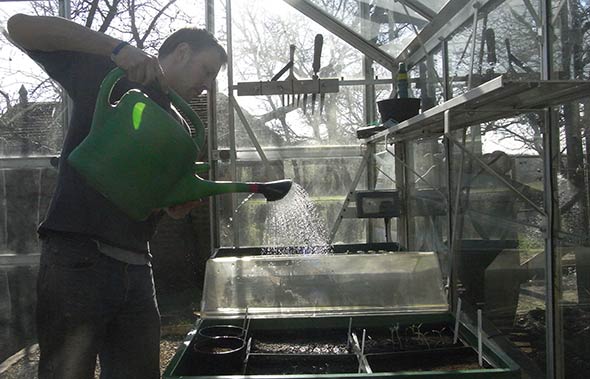 Hardy vegetable seeds can be sown once the soil temperature is above 7°C. The greenhouse is the obvious place to start growing early vegetables and a heated propagator is always useful to have since you can control the germination temperature precisely but what happens when you have a tray of seedlings needing planting out and the ground is cold outside?
Raised beds drain well and sandy soils warm up quickly in the spring but heavy clay soils hold moisture for longer so are slower to warm. Whatever soil you have though, it will benefit from being covered to warm it up.
Remove weeds, lightly fork the soil over and you are ready to start. You can warm the soil using clear plastic, ideally raised above the soil, with a cloche or with horticultural fleece. Fleece doesn't warm the soil as fast as plastic and allows rain through.
…a sure sign that it's the right temperature is when the weeds start to grow!
This is useful later on in the spring on sunny days when a cloche can dry out your plants quickly so I sometimes change over from plastic to fleece as the temperature rises.
The simplest way to dry the soil and trap warm air in is using clear plastic. This can be weighted down with bricks or even easier with soil around the edges. If you're prepared to spend a few pounds, you could also use a cloche. This one has served me well, I've had it for 8 years now.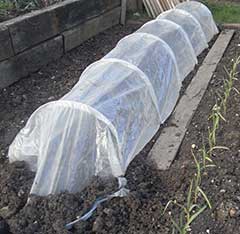 You will need a soil thermometer to test the temperature of the soil but a sure sign that it's the right temperature is when the weeds start to grow!
It is actually advantageous to allow the weeds to grow under the cloche for a couple of weeks because you can hoe them off before planting and then you will find fewer weeds growing here later on in the season.
As I mentioned at the beginning of this blog post, hardy vegetable seeds can be sown once the soil temperature is above 7°C which can be as early as February or March if you cover the soil. You will of course need a thermometer to test the soil temperature but a good indicator is when the weeds start to grow, it's warm enough to sow.
Here are some to try: broad beans, carrots, summer cabbages, lettuce, peas, radish and hardy cut and come again salad leaves. These I would say are the best ones to start with.
I usually start broad beans, cabbages lettuce and peas off in pots in the greenhouse towards the end of January / early February and then transplant them out in March once they are established and hardened off. Sowing early means there is less light and that can give you very tall seedlings. I will usually bury seedlings such as cabbages up to their seed leaves when transplanting from the seed tray into pots, they don't seem to mind!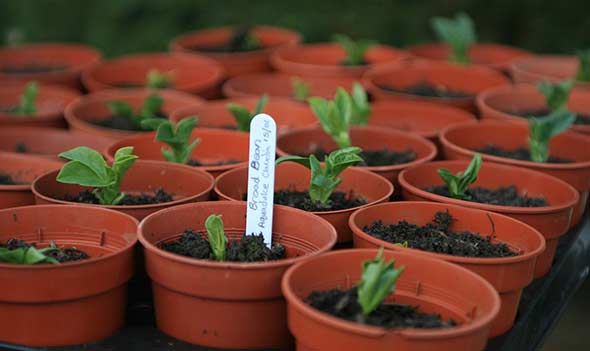 I have also had mixed success with sowing early potatoes – last year I tried the very fast to grow Rocket potatoes in a greenhouse although it was a particularly cold spring and for most of the time, the soil temperature was below 7°C and the harvest was about a month later than planned but this isn't always the case, some years I've been eating new potatoes in April after a January sowing.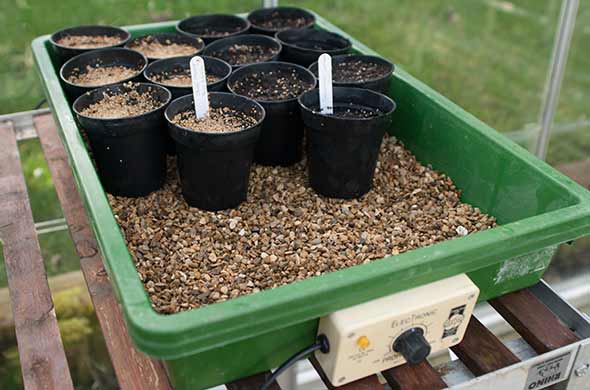 If you are impatient to start growing early vegetables like me, then why not try warming the soil and sowing early?
If you'd like to read what else you can do this month, then why not read my comprehensive guide "January in the Vegetable Garden"
Have you had any success with early crops? I'd love to hear below.